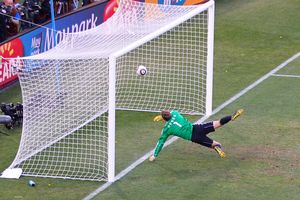 Premier League could host goal-line test
From ESPN (Associated Press)
LONDON -- Goal-line technology could be coming to the Premier League next season, with Hawk-Eye hoping to test its system during top-level matches for the first time.
But with soccer's rules-making body yet to allow referees to consult high-tech aids, the trials and results will remain secret.
Hawk-Eye founder Paul Hawkins also is concerned that if his system contradicted a ruling on a disputed goal and the results were made public, the referee would be undermined.
The sport moved closer to adopting goal-line technology earlier this month after the International Football Association Board approved another year of testing and FIFA president Sepp Blatter declared that it "helps referees."
Read the rest of the article here:
http://espn.go.com/sports/soccer/news/_/id/6216231/premier-league-host-tests-goal-line-technology-system?campaign=rss&source=twitter&ex_cid=Twitter_espn_6216231
In a 2 paragraph response (a minimum of 5 sentences for each paragraph), answer the following questions. In paragraph # 1, discuss your thoughts on this innovative product. What do you like or dislike about it? Why? Do you feel it will help or hurt the the larger product (Premier League Soccer)? Why? Be specific with your thoughts.
In paragraph # 2, discuss and summarize the testing process for the product? Why do you think the tests are part of the process before the league gets to the stage of using in game situations? Be specific with your thoughts.
Please sign your name to the bottom of your blog entry.